Thanks Russ for making this a sticky! Also thanks for the offer, but it will all work out for the best in the end I am sure. It will be a long time before I buy another bike sight unseen though.
Anyway, back to the build...
The Frame was now back from the powdercoaters, and it looked slick - real slick. So slick I didnt want to mess it up by putting an engine in there. My thoughts turned to the other components that needed to be stripped down, cleaned and parts replaced. As I mentioned earlier, the fork seals were non existent, so I decided to start there.
I purchased a new set of fork and dust seals, and luckily for me they are readily available, and come as a set. I also decided to try my luck with a bit of modification in the form of valving for the forks. After talking to a few guys on the ADV forum (sorry Russ), especially Ray (Ladder106), who is a really top bloke, he encouraged me to try a set of Intiminators from Ricor Shocks - so I did. They were about AUD$330 delivered to my door and Don from Ricor was very good with comminication and getting them to me without delay.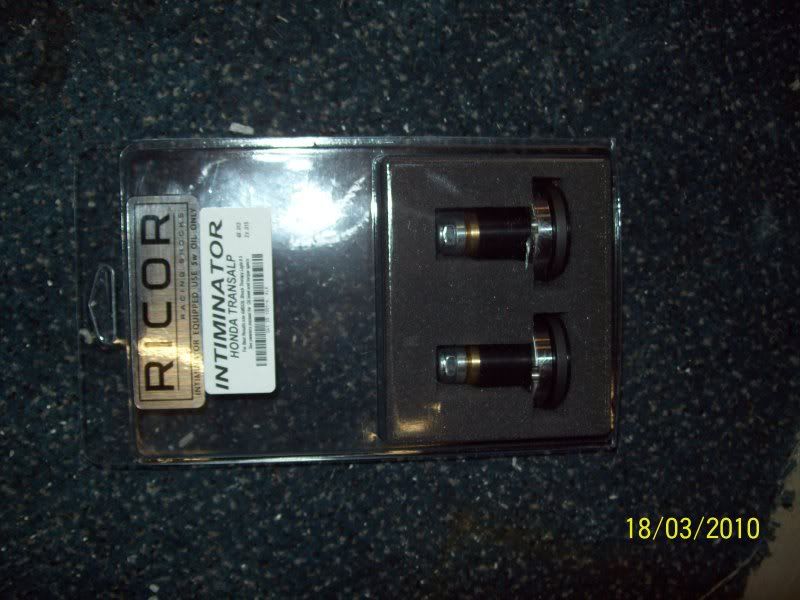 The fit on top of the valve body under the springs, and stop brake dive and give a much more compliant and controllable ride. I will give you a ride report on them later.
As you can see from the photo, this is what I had to work with. The fork gaiters had long since gone, and the oil seals and dust seals were well past their use-by date. As you can also see, the lower triple clamp was as corroded as the rest of the bike - what a mess!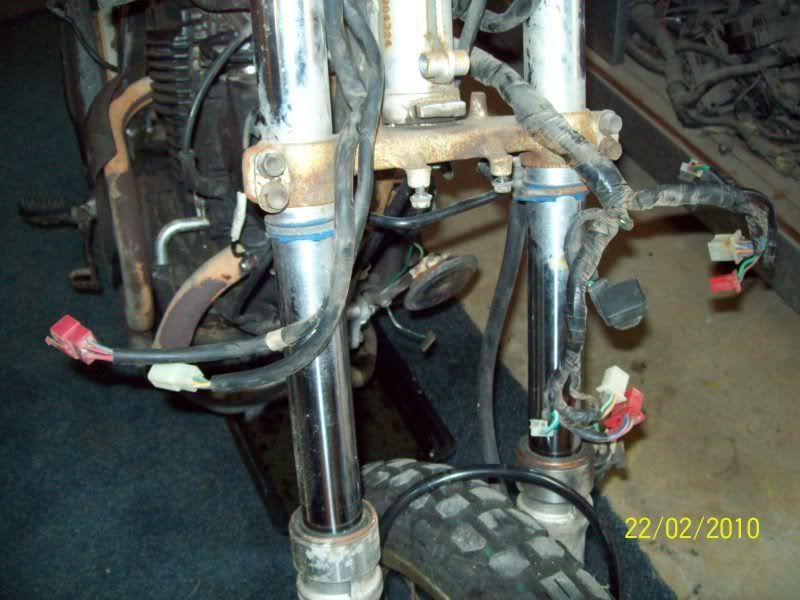 Anyway, each fork was stripped down to its basic elements. The spring free-length was measured and both found to be within spec. The lower fork leg was scrubbed and scrubbed to get the ground in dirt and surface corrosion out of the alloy. I have to mention here about the fork oil that came out of each leg - OMG! The initial bit that came out was like clear water, and the last bit that came out was just black sludge! It was my guess that the fork oil had never been replaced in the 23 year history of the bike - I kid you not!
With both fork legs fully cleaned and checked, Initminators installed, new Motul 5W fork oil, new fork oil seals and dust seals and fully reassembled, and with the Ricor stickers now taking pride of place over the Showa ones, they were put aside pending fitment up to the bike.
Now my attention turned to the rear shock. It was in equally poor condition. I totally disassembled the rear shock unit, and checked the spring free length measurement - well within spec thank god!
 I sent the shock unit off to get the valving tested as it might be shagged inside and need either rebuilding or replacing. It came back AOK, so that was a relief! Now, I think the rear shock is fine for what I am doing, so no need to replace just yet, but Ricor do make a rear unit for the Transalp, so that may be on the shopping list.
I made sure the rear spring looked good - after sending it off to get blasted, I gave it a nice slick coat of gloss red enamel.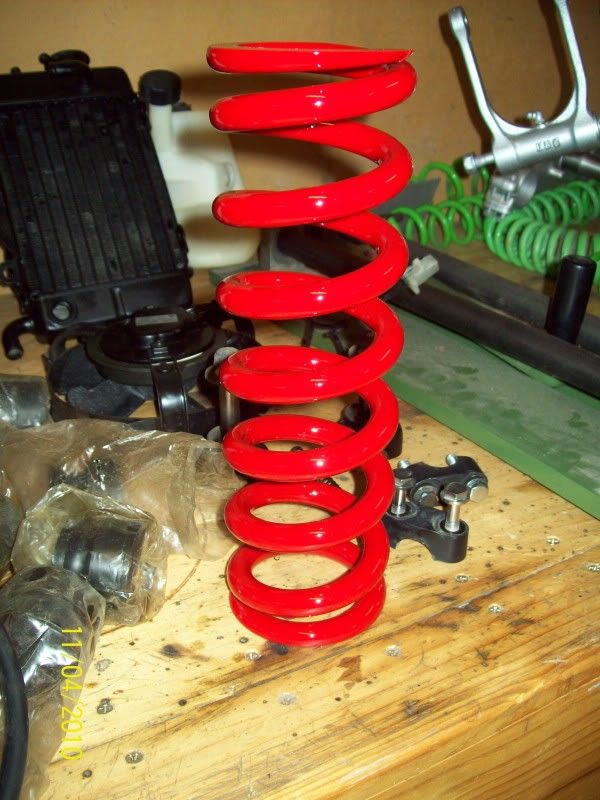 And then I reassembled the whole rear unit.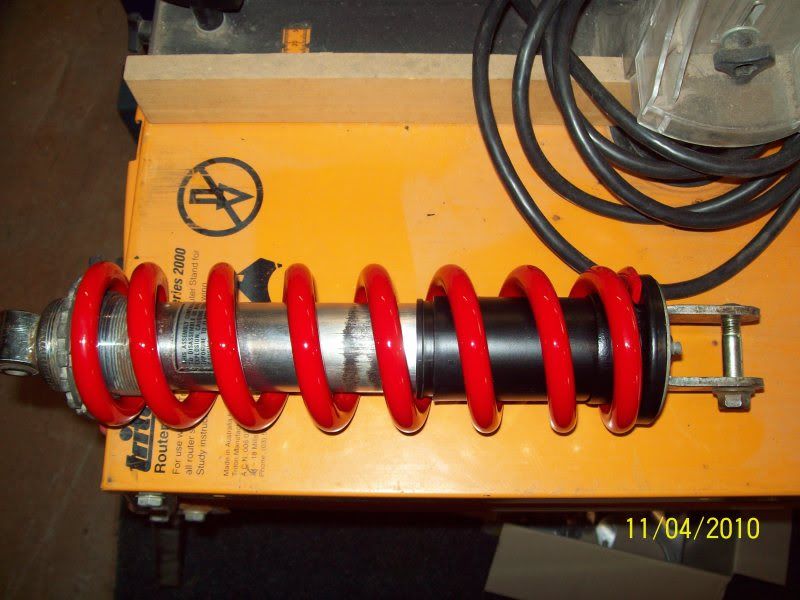 While all this was going on, one of my orders was ready for pickup - bearings! Every single bearing in the bike was replaced with new units. It was no use rebuilding the bike from the ground up and using old parts!
The radiators were next, and the overflow bottle. The overflow bottle was so full of gunk, its a wonder that there was any room for the water  :shock: I used Kero, CLR and all manner of solvents to get the gunk out, and succeeded in getting it looking near new - you can just see it in the background behind the spring.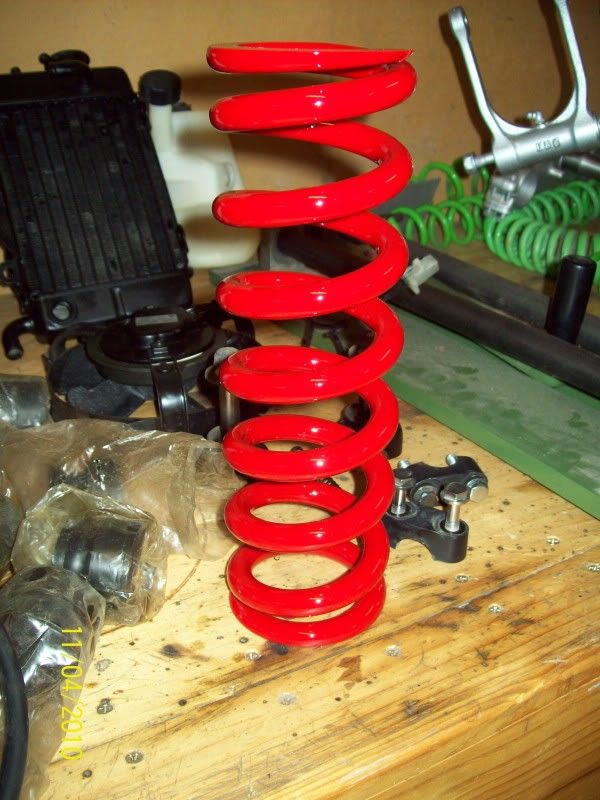 Turning my attention to the radiators - they must hold pressure as I rode the bike for one test ride and they held the temp ok. So I decided to strip them and repaint them. A mate of mine gave me some of this solvent stuff that he used for air conditioning condenser coils - and it worked a treat. You spray it on and it foams up and strips the paint right off without damaging the alloy.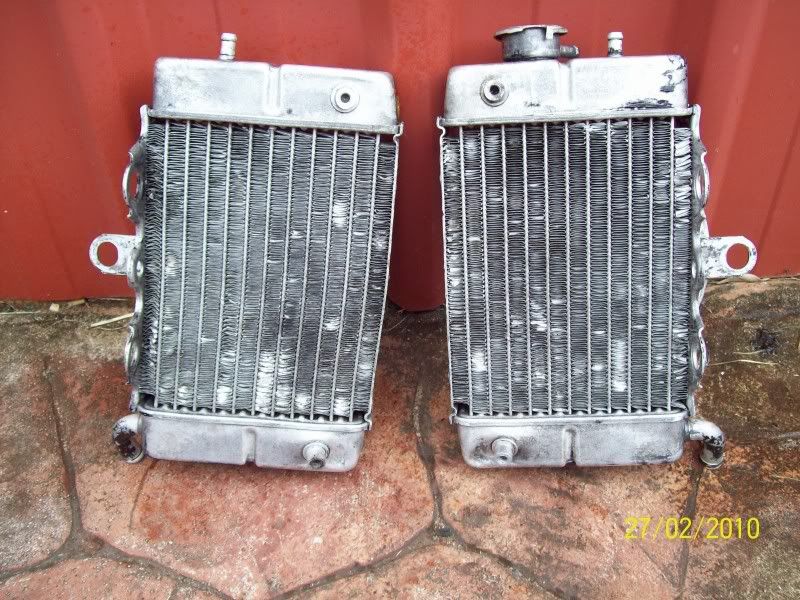 After a couple of coats of radiator black, they came up a treat, even though on had a slight dent (see previous pick, behind the rear coil). About this time the radiator fan arrived from Ireland, delivered to my door for the princely sum of AUD$45. I also decided to scrub all the coolant hoses and pipes as they were just covered in crud! I also replaced the thermostat - but this wasnt cheap - AUD$107 from the local Honda dealer!
So,
Cooling system cleaned - check
Forks rebuilt - check
Rear Shock rebuilt - check
What next, lets do the wheels then. And this I will show you in the next installment.
Cheers,
Tricky