I just installed a Lenac Big Brake Kit on my 89 T/A. What a difference this simple modification made. My other streetbike is a Ducati and when I'd jump on the T/A I would occasionaly find myself in a arse pucker situation when I'd have to make a fast stop. This cured it!
Here's the old Rotor laid on top of the new Big Rotor
The new Rotor installed on the wheel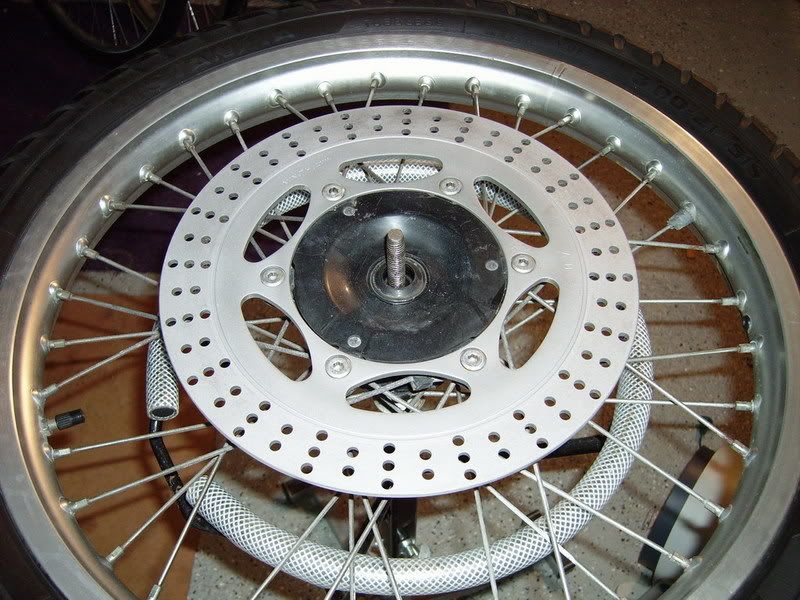 The Caliper repositioning bracket and finished assembly
The quality of the parts is excellent. All the required hardware was supplied and the directions were clear and concise. It took me about 45 minutes for the entire modification. I can't say enough about the added braking power. I hesitate to put a numerical figure on the added braking effect but it was dramatic. The manufacturer recommends using Stainless Brake lines, I'll be adding them next.
I paid $175 for the kit, it included the shipping (US only I'm sure). Delivery was lightning fast.
I contacted the manufacturer via Email at:
bigboy11@sigmaweb.net
You can also contact him by mail at:
Steve Lenac
201 Shaw St.
Garfield, NJ. 07026
Best modification I've done on the T/A so far!!